PCD Pharma Franchise in Kashmir– Kashmir is literally a paradise on Earth. This valley region is as popular for its budding business industry as its beauty. In this area one might think to be secluded, we found a fruitful atmosphere for business owners. This is why today a leading Pharmaceutical company, Biocorp Life Sciences is promoting their PCD Pharma Franchise in Kashmir. This offer comes with great promise for the changing atmosphere of the region. We believe the entrepreneurs in the area would be much obliged with such a great startup idea for a thriving business. Our firm is targeting locations that have a high demand for pharma medicines and products. These are Bandipora, Doda, Kargil, Kathua, Kishtwar, Kupwara, Leh, Poonch, Rajouri, Ramban, Reasi, and Shopian.
Biocorp Life Sciences has been India's primary medical supplier and health care provider for years now. Therefore, we have had many experiences in the pharmaceutical market and have learned perfection in medications and make them such that they can cater to the exact needs of our consumers. With a mission to touch all parts of India to provide health care to all, we are giving the golden opportunity of the PCD Pharma Franchise in Kashmir. With our support and your willingness, we could take your business to new heights.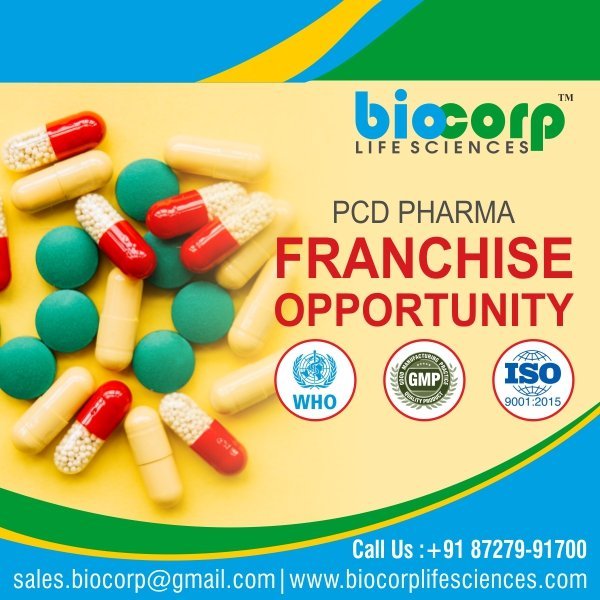 To know more about our wide range of medicines or for more information on our PCD Pharma Franchise offers in Kashmir, feel free to contact us. You may call us at the numbers +91 8727990700, +91 8727991700 or 0172-4052828, or you can also write to us at sales.biocorp@gmail.com.
The Vast scope of doing PCD Pharma Franchise business in Kashmir
Kashmir is a region with abundant resources. The people living here are lagging behind only in the area of health care. But we believe that with the growth of the industrial sector and the high potential that the business industry has to offer, a PCD Pharma Franchise in Kashmir would be a much fruitful business opportunity.
As witnessed in recent history, the population of Jammu and Kashmir has collectively increased by 1.024 Million between 2014 and 2018.
Making it evident that the population experiences an increase of about 0.2048 Million in the span of just one year.
Therefore, the population of Jammu & Kashmir in the year 2019 is as high as 14.5288 Million (14.324 Million + 0.2048 Million).
Kashmir also attracts a lot of tourists and the tourist population in the span of one year now makes collectively 14.32 million. The domestic tourist, however, makes for 14.24 million while the foreign tourists are about 79.77 thousand in number.
During the span of 2017-18, total export products from the state accounted for US$ 148.31 million in monetary terms. While the exports stood at US$ 178.26 million in the period of 2018-19. This is evidence of the vast growth that the industrial development of Kashmir has shown.
Thus, these were just some factors that are reasons why the opportunity of a PCD Pharma Franchise in Kashmir will be very successful. All we are very much aware of the situation of Kashmir and the health situation is very poor here. Low medicine delivery channels in Pulwama make suffer from bad health conditions so Pharma PCD Franchise is a great business exposure.
The Best company for a PCD Pharma Franchise in Kashmir
Biocorp Life Sciences has always been a pioneer in providing services in terms of quality medications, efficient transport, and on-time deliveries. This makes our clients and customers trust us implicitly. Therefore, our certifications given by the great health institutions like the WHO, GMP, and ISO are a testament to the performance of our quality drugs in the Pharma Market.
Our incredible product range includes everything from tablets and capsules to ointments and drops.
The hard work of our scientists has led us to make a great annual turnover every year.
We have several quality assurance engineers that are vested in preserving the quality of our products.
The ingredients and chemicals that we use for our medications are rich in quality and are accurate in composition.
Our ties in Australia are a result of us being international contributors in the Pharma Industry.
The infrastructure of our warehouses and our manufacturing units are ideal for the storage and production of our top-quality medicines.
Thus associating with us for a PCD Pharma Franchise in Kashmir would be a great decision made by you for a brighter future.
Exclusive services for our Pharma Franchise in Kashmir
Here at Biocorp Life Sciences, we work hard to keep our customers happy and harder to impress our clients by giving them our unwavering support whilst in the pharma market. Therefore we are known to provide services to our clients exclusively in the areas we provide our PCD Pharma Franchise opportunities.
Monopoly Rights: As a pharmaceutical institution, we have had a lot of experience in this sector and thus we know what a business needs so we can turn it into a prosperous one. Therefore we provide our clients with a monopoly in the market so that the competition in the market reduces and making sales becomes easier.
Promotional Help: We are also aware of the great role that advertisements and promotions play in a prospering business. We provide merchandise that includes t-shirts, note pads, diaries, caps, pens, and paperweights, etc to boost the sales of our products.
Ethical Business dealing: We also make sure that the client feels comfortable dealing with us so we have protocols in play that help in putting transparency in the business dealings. Therefore we do everything above board and in the light of legal supervision.

Best Quality Assurance

: Quality is the utmost priority at Biocorp Lifesciences. We deliver the best quality pharma products which meet all quality parameters and safe for the patients. We use the best raw material and ingredient for the manufacturing of medicines which is supplied by the best vendor in the industry.
These are the addons that you can get if you associate with us. We aim to deliver quality and good profit to our business associates. Our PCD Pharma franchise in Kashmir will reach on heights and from this, you can expand your business easily and profitably.
Locations where you can apply for PCD  Franchise in Kashmir?
We are hoping to expand the umbrella that our health care facilities provide to all parts of the world; starting with the country we are all so proud to call our own. Therefore we are looking to commence with the valley of Kashmir. Below is a list of places we are targeting to give away our PCD Pharma Franchise opportunities in Kashmir.
Bandipora
Doda
Kargil
Kathua
Kishtwar
Kupwara
Leh
Poonch
Rajouri
Ramban
Reasi
Shopian.
The above-mentioned areas are considered the most suitable places for franchise business as the demand in particularly high in these areas and the market conditions here are also favorable. Kashmir shows so much potential to be a great place for more health care providers. Thus, we are counting on you to be a contributing member of society by investing in our offer for PCD Pharma Franchise in Kashmir.
Contact Us
We would absolutely love to hear from you!
Name: Biocorp Life Sciences Pvt. Ltd.
Address: SCO-25 & 99, Swastik Vihar, Sector 5, Panchkula, Haryana 134109
Phone no: +91 8727990700, +91 8727991700, 0172-4052828
Email: sales.biocorp@gmail.com