PCD Pharma Company in Arunachal Pradesh –  Northeastern area is a developing state, People of this area, putting many efforts for improving living standards and per capita income.  In the new market, setting up any kind of independent business is a little difficult. There are so many factors that matter a lot for starting up a venture like location, customer view, availability of stock, demand for the product, etc. The rising population and bad health clearly indicate, the hike in medicine requirements. For improving the health issues, Biocorp Life Sciences the PCD Pharma company introducing themselves in the Arunachal Pradesh. We are welcoming to all pharma experts and medical representative to join us for PCD Pharma franchise business opportunity
Biocorp Life Sciences with shear cinch and sagacity in the pharmaceutical business at various levels. The PCD Pharma company is an ISO, GMP&WHO certified and bringing a vast and quality variety of medicines in the Arunachal Pradesh. Our business plan is distributing medicines in Arunachal Pradesh via Pharma professionals through PCD Pharma Franchise. We are giving our full support to the career seekers and pharma professionals to our PCD Pharma company in Arunachal Pradesh for Franchise business.
You can connect us anytime, just dial  +91-8727990700, 8727991700 or you can use our toll-free number also, our number is 1800-103-7525. We are always available at your service.
What you can Achieve After Opening PCD Pharma Franchise In Arunachal Pradesh?
PCD Pharma franchise is a prominent business in the competitive market. Every person needs medicine for better health, and to meet the requirements of medicines, PCD Pharma Franchise is the only way out. People of Arunachal Pradesh ready to spend money only on quality products. If a person collaborates with Arunachal Pradesh based PCD Pharma company for Franchise business than this is a great path for entering the pharmaceutical sector.
Not just old franchise businessman! Career seekers and Pharma professionals are looking for the best PCD Pharma Company in Arunachal Pradesh. So Biocorp Life Sciences is the only bright option for them. Here are the advantages of affiliating with the company for PCD Pharma Franchise Business –
Low investment required, if you don't have enough money then the company also offer a loan facility.
 Monopoly rights based Pharma Franchise will helpful for earning high revenue
For making a good market connection we provide free innovative promotional and marketing tools
You can earn a good reputation and respect in the market by selling high-quality medicines.
You will not face any hurdle in your business, because you will get our support for your franchise business.
This is not over yet! Our PCD Pharma Franchise is a ladder for your business dream. We always help you to achieve business heights as you desire.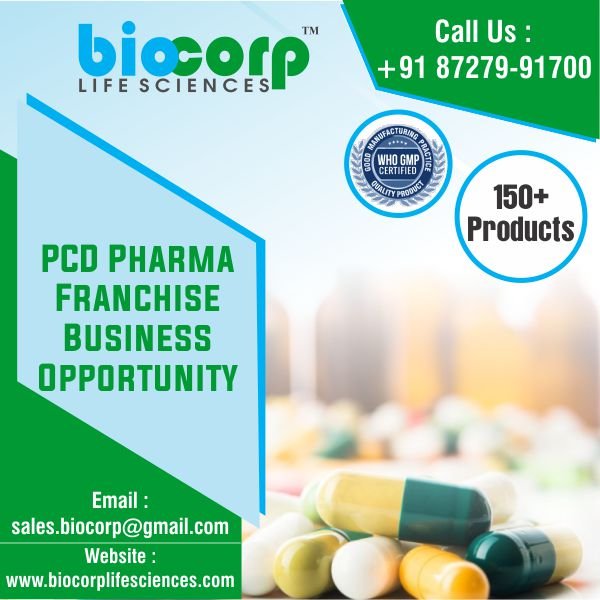 Biocorp Life Sciences – The Dynamic PCD Pharma company in Arunachal Pradesh
Biocorp Life Sciences is the provider of Quality medicines in Arunachal Pradesh. We are well structured and focused. Our manufacturing units only produce high-grade medicines. After all quality check procedure, only expert-approved medicine come out from the units. All our pharma medicines are DCGI approved.  Our product portfolio and new medicine pipeline becoming a good source of earning certain returns for our Franchise associates.
It's a golden opportunity for the career seekers and pharma professionals to join us in Arunachal Pradesh for PCD Pharma Franchise business in Itanagar. Our business mantra is "quality in the process". Additionally, we have a good linkup with Doctors who mostly refer our company medicines to their patients. So this is a big attribute for our business partners. Nowadays, People are shifting to quality medicines. We only deal with Quality products for Franchise in Itanagar.
Product Category for Pharma Franchise in Itanagar and Other Areas
Earlier, we mentioned that we only deal with quality medicines. We manufacture a wide medicine range in various formulations. Biocorp Life Sciences is one of the most trusted names for Pharma Franchise in Itanagar.
We use high graded raw material for production and the best comes out. Formulations are the end products made to treat different kinds of ailments.
Here is our formulations list for Pharma Franchise in Itanagar, Arunachal Pradesh –
Tablet
Cream
Liquid
Capsule
Ointment
Dry Syrup
Powders
Injectables
Herbal & Ayurvedic
Our medicine formulations are patent by us. Join us For PCD Pharma Franchise in Arunachal Pradesh and dig in the business success. We are trying to solve issues related to healthcare delivery and drug development.

Quality Procedure for PCD Pharma Franchise Product Range
Our Company provides each employee with the standard operating procedure (SOP). It is a set of step-by-step instructions given to workers to help them carry out complex routine operations. Through this SOPs we aim to achieve efficiency, quality output and excellence of performance. This also helps to reduce miscommunication and failure to comply with industry regulations.
Apart from this, our Change control body looks after all changes made to a product or system. This helps to stop unnecessary changes, documentation of all changes and whether the resources are used efficiently. Other than this, our QA (Quality Assurance) team uphold the integrity of products by watching that all products meet the quality standards.
Target Locations for PCD Pharma Franchise in Arunachal Pradesh
Arunachal Pradesh is the largest northeastern state in terms of area. It is The state is bound by Chinese – occupied Tibet to the North; Bhutan to the west, Myanmar to the east, Nagaland south. With the total population of 865M, this state has good PCD Pharma Franchise business Opportunity.
Our PCD Pharma Company is covering all the vacant locations of Arunachal Pradesh for PCD Franchise in Itanagar and other districts of the state. Here are the locations we are covering for Pharma PCD Franchise in Arunachal Pradesh:
These are the locations where you can avail your own pharma franchise business. We are targeting all major, minor locations in Arunachal Pradesh.
Contact for  Pharma Franchise in Arunachal Pradesh
Name: BIOCORP LIFE SCIENCES PVT LTD
Address: SCO-25 & 99, Swastik Vihar, Sector 5, Panchkula, Haryana 134109
Phone: +91-8727990700, 8727991700
Email: sales.biocorp@gmail.com
Join hands with the top PCD Pharma Franchise in Arunachal Pradesh and get the opportunity to be your own boss. Biocorp Life Sciences provide the best support to the pharmaceutical professionals who are willing to start their own Pharma Franchise in Itanagar and other parts of Arunachal Pradesh.