PCD Franchise Company in Uttarakhand – Biocorp Life Sciences is one of the trusted names in the pharma industry. We are based in Panchkula and from the very first day our company is progressing well. Our pharma company deals in the covers the huge segments like Cardiac, Diabetic, Antibiotics, Anti-Fungal, etc. We, Biocorp Life Sciences establish our PCD Franchise Company in Uttarakhand in order to expand our reach, we are offering pharma franchise business opportunity in districts of Uttarakhand and in other parts of India.
We are the most prominent company in the pharma sector. Biocorp Life Sciences is holding ISO, GMP, and WHO certifications. We deal in manufacturing, trading, and commercializing products. Our product quality and richness make us the unique and best PCD Franchise Company in Uttarakhand. Biocorp Life Sciences believes that the best way to succeed is the good partnership between the two parties and that mutual growth and benefits are important for a good partnership. Therefore we keep transparency in every business deal.
Our pharma company always open for talented and enthusiastic medical professionals and newcomers who are looking for the opportunity to establish themselves in the pharma franchise business. Therefore for them, Biocorp Life Sciences offers the PCD Pharma Franchise in Uttarakhand and other regions of India along with various benefits and rewards. We are welcoming to all pharma experts and medical representatives to join us for the PCD Pharma franchise business opportunity. To know more regarding business deals contact us at +91-8727990700, 8727991700 or write to us at sales.biocorp@gmail.com.
Join Top PCD Pharma Company in Dehradun
The Pharma Company is committed to delivering high-quality, yet affordable, world-class drugs to its associates and customers. We have never looked back from the company's inception and made a prominent position in the industry for ourselves. Our  PCD Franchise Company in Uttarakhand has always been looking for a wide range of pharmaceutical molecules.
Our PCD franchise company in Dehradun has fully integrated production units and research units that make us in lead at the pharma sector.
The company is well equipped with the latest technology and production process, enabling us to provide our customers with proper assistance with a complete range of valuable products.
We have quality assurance personnel, all required licensing, large-scale production capacities and good communication with medical representatives, which is very important to build a successful pharma franchise business.
Be our partner and experience the growth and unique opportunities through Franchise in Dehradun or in any part of the state by getting Pharma Franchise in Uttarakhand

"Biocorp Life Sciences"- The First Choice for Pharma Franchise in Uttarakhand
For both ends, we believe in mutual growth, as a partnership only leads to a great business. Our PCD Pharma in Dehradun and other parts of Uttrakhand is a great business opportunity. At this company, you will not only get the best high-quality formulation, but we will also provide full support from our sides to partner to establish yourself in the industry.
There are many reasons which make us best PCD Franchise Company in Uttarakhand to associates with apart from our quality products-
Our Talented Team: We have a highly trained and experienced company team that is constantly expanding their knowledge and improving expert skills to deliver new and innovative products to you. Our teammates are committed to delivering the highest quality product.
Our Finest Quality for PCD Franchise in Dehradun: Our PCD pharma franchise company in Uttarakhand has a quality assurance team that takes care of product quality, efficiency, and safety. Corporate Quality Unit is the body responsible for manufacturing the finest quality drugs we produce.
Our Best Logistics: We, Biocorp has joined hand with the highly experienced and talented logistics in Uttarakhand. Our logistics covers all the major districts and cities of Uttarakhand like Haridwar, Dehradun, Nainital, Chamoli, Udham Singh Nagar, Uttarkashi, etc. Our logistics never let us down and always deliver all the medications on or before the time mentioned to our PCD pharma franchise business partners across India.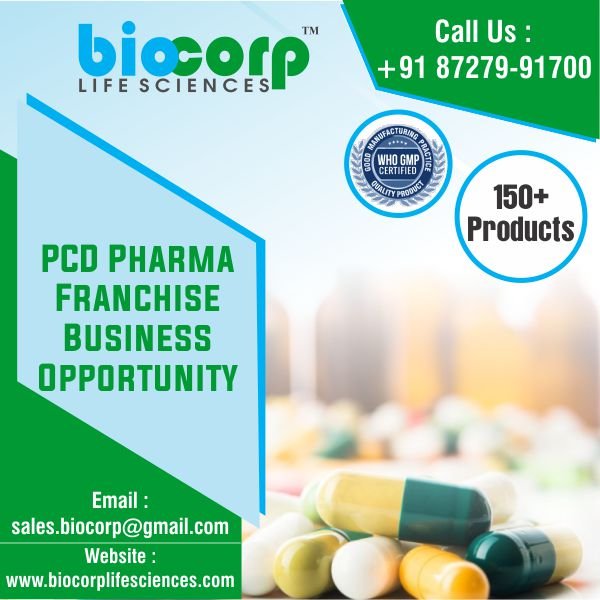 Our Pharma Franchise Company Follows the Best Formulation Process
Most crucially, at the time of manufacture, the quality of a product is maintained. For medicinal products, this is highly applicable. Through our valuable product, we want to reach out to the maximum number of people. Our PCD Franchise Company in Uttarakhand has good links and reputation among healthcare professionals.
Our PCD Pharma company in Uttarakhand is following the same procedure –
Quality control.
Hygiene packaging.
Safer and efficient products.
Use of the best raw material.
Advanced manufacturing unit.
Hygienic manufacturing processes.
Using new technology for the manufacturing process.
Become the partner with a leading pharmaceutical company in Uttarakhand and become the owner of your business. Biocorp offers you a fair deal with good scope for the growth in the pharma industry.
Grab the Monopoly Based PCD Pharma Franchise in Dehradun, Uttarakhand
The business of the pharma franchise is a good way to get into the pharmaceutical sector. You're going to get good chances here. The demand for quality medicines is high, making Uttarakhand an ideal location for business with PCD franchise in Dehradun.
The pharmaceutical and medicines business' growth rate is appreciating. The healthcare industry is a flourishing industry. People from all over northern India come here to take medical care. For many health tourists, world-class amenities and good facilities made it an attraction center.
Here given below are our target areas for PCD Pharma Franchise in Uttarakhand region:
Dehradun
Rishikesh
Haridwar
Mussoorie
Almora
Bageshwar
Champawat
Pauri Garhwal
Rudraprayag
Tehri Garhwal etc.
These are the areas where are focusing our franchises. We aim to serve the maximum number of patients in Uttarakhand. This is the reason that we focus on people's health. Earning high is also our aim but not by compromising of quality medicines.
Scope of PCD Pharma Franchise in Uttarakhand
As per the March 2001 census, Uttarakhand covers the area of 53,483 sq km. The state shares borders with Tibet in the North and Nepal in the East, inter-state boundaries with Himachal Pradesh in the West, Northwest, and the Gangetic plains of Uttar Pradesh in the South.
Since the state offers a diverse range of benefits in terms of tax exemptions, interest incentives, financial assistance, subsidies, and concessions, it thus becomes an ideal state for Pharma PCD Franchise business.
Biocorp Lifesciences is targeting all the vacant locations for PCD Franchise business in Dehradun and Pharma Franchise in Uttarakhand covering all other districts. Be the part of the top PCD Pharma Franchise Company and work towards starting your own business successfully. Biocorp's exclusive medicine ids highly recommended by healthcare professionals all across the country.
Contact Information for Pharma Franchise in Dehradun
Name: BIOCORP LIFE SCIENCES PVT LTD
Address: SCO-25 & 99, Swastik Vihar, Sector 5, Panchkula, Haryana, India 134109
Phone: +91-8727990700, 8727991700
Email: sales.biocorp@gmail.com
Join hands with one of the top PCD Pharma Companies in Uttarakhand and began your journey in the pharmaceutical industry. The Company is looking for hardworking and dedicated pharmaceutical professionals for PCD Pharma Franchise in Dehradun and other vacant locations.