Anti Inflammatory Products Franchise – In the pharmaceutical sector there are a number of pharma companies exist which deal in various medicine segments and offer business dealings. For the quality range, Biocorp Lifescience's name is always on top. Our company offers a wide range of medicines, among all segments, Anti Inflammatory products have great market and demand. For making the reach of our medicines at every corner we offer Franchise dealings. For now,  we exclusively offering our Anti Inflammatory Products Franchise business opportunities. This is such a great dealing for pharma professionals and career seekers.
The market of Anti Inflammatory Products is really huge and it is projected to reach 130 billion US dollars by 2025. People who willing to enter the pharmaceutical sector by low investment opening Anti Inflammatory Products Franchise is a great opportunity. Our company, Biocorp Lifesciences is a top name in the pharma industry and engaged in quality production. Partnering with us for the PCD Pharma Franchise business is a fruitful decision for you. Get detailed information for the franchise business from us.
To get in touch with our executive for business details dial our number +91 8727991700. You can mail us also, write to us at sales.biocorp@gmail.com. We will assist you professionally.
Market Insights for Anti Inflammatory Products
According to the WHO surveys and reports approximately 200 Million people suffering from Asthma. For relief during the pain Anti Inflammatory Products provides. The best aspect of anti-inflammatory therapeutics is it has lesser side effects and better efficacy. Well, on a large scale people adopting anti-inflammatory drugs. Moreover, people's awareness also plays a crucial role in the growth of the drug market. People who doing Anti Inflammatory Products Franchise business has good indications for rapid growth. The particular medicine has a great market presence.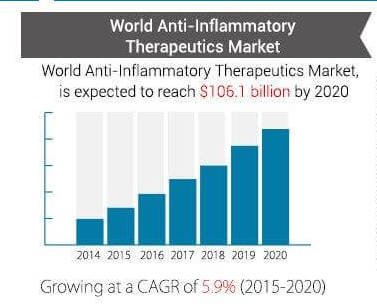 This graph speaks itself for the swift growth of Anti Inflammatory Products. Start your business with one of the top Anti Inflammatory Products Franchise Company. This is the best business option for all of you to start your own venture successfully in the pharmaceutical Industry.
Top Anti Inflammatory Products Franchise Company – Biocorp Lifesciences
Biocorp Lifesciences is a renowned name in the pharmaceutical industry. Our company offering monopoly rights, High-quality products at genuine prices. Our drug range manufactured under GMP&WHO Certified units. All units are highly maintained under expert supervision. Our company makes available quality range of medicines and products. We offer medicines at various formulations like capsules, tablets, injections, oils, ointment, creams, syrups, etc. To check the medicine quality we have a quality check department here we test medicines as per standards. After their approval medicines sent to further process.
After the quality department, medicines sent to the packaging area. Here we packed all our produced formulations in the safe material like Alu-Alu, blister, etc. After that those medicines sent to the warehouses for storage and as per orders we dispatch accordingly. For making the medicine delivery at every vacant location we offer our monopoly rights-based PCD Pharma Franchise dealings. You can be  If you are thinking of taking up genuine business opportunities then Join our Anti Inflammatory Products Franchise.
Advantages of Investing in the Pharma Franchise Business
Along with a good scope and opportunities in the Pharma industry, Biocorp Lifesciences has other advantages for associates as well. We are having good contacts and reach people. Here are some more benefits to choosing Anti Inflammatory Products Franchise:-
Genuine Prices
Monopoly Rights
Promotional kits for beating the competition
Attractive packaging and timely delivery
Regular update in the product portfolio
Handsome incentives for the associates
Good Career Growth
No Sale Burden
100% customers support etc.
Come and be part of one of the top Anti Inflammatory Products Franchise Company in India and start your business. Biocorp Lifesciences deliver an excellent range of medicine. As our company is one of the best and most profound names in the pharmaceutical sector with associates from all around the country.
Requirements to take up the Anti Inflammatory Products Franchise
There is a set of eligibility criteria that you have to match to take up the PCD Pharma Franchise. If you are willing to know whether what is the eligibility criteria that you have a match then go through the below-mentioned details:
You should have completed graduation from any recognized board or university.
You need to  hold a valid Drug Licensed and TIN Number
You must obtain 3 years of working experience selling pharma products.
A sufficient amount of investment required for this particular business sector approx 3-4 lakh.
For a successful business in the pharmaceutical sector make sure you invest your money in the right company. Only a genuine and professionals Anti Inflammatory Products Franchise company can guarantee you a good return on your investment.
Contact Information
Name: Biocorp Lifesciences
Address: Bldg. No. – 99, Swastik Vihar,
Sector 5, MDC Panchkula,
India – 134109
Phone No: +91 8727991700
Email Id: sales.biocorp@gmail.com