Top Antacid Syrup in India –  Stomach Acid, also known as Gastric Acid, According to research studies, 20-30% of Indians suffer from stomach acid or GERD symptoms including frequent heartburn, upset stomach, acid indigestion, chest pain, etc. Eating heavy meals, eating late at night, certain medications, large consumption of alcohol or caffeine, etc., are the major factors that may induce acid in the stomach. To help people dealing with gastric acid in their day-to-day life, we have rounded up a list of the 5 Best Antacid Syrups in India.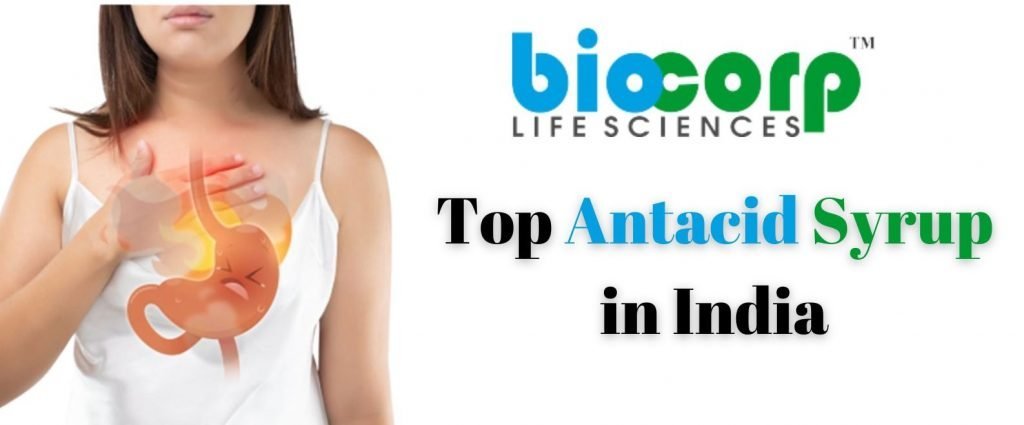 Antacids work to balance out or neutralize the acid in your stomach in order to treat indigestion, heartburn, inflammation of the stomach lining, stomach ulcers, etc. It is proven that the liquid form of Antacids works faster and delivers effective results from gastrointestinal issues. Due to the high bioabsorption properties of Antacid Syrups, they are highly demanded in the Indian Market. If you want to have quick and permanent relief from such troublesome gastric issues and searching for high-quality, effective Antacid Syrups, then check out the Top Antacid Syrup in India mentioned down below.
The Antacid Syrups mentioned in this blog are compiled after thorough research and are ranked by following an analysis of several aspects including quality, effectiveness, brand awareness, availability, affordability, and much more. So, let us quickly move to the list of one of the best, medically tested, and well-composited Antacid Syrups in India:
With the finest combination of two medications namely Magaldrate and Simethicone, this suspension has made it to number one in the list of 5 Best Antacid Syrup in India. The inorganic salt Magaldrate and the antifoaming medicine Simethicone in this suspension work together to provide immediate relief from heartburn, indigestion, acidity, and stomach ulcers. Regular usage of this syrup helps the user to get rid of symptoms associated with stomach acid such as bloating, uncommon weight loss, heartburn, abdominal discomfort, diarrhea, etc.
Uses of Simgel Suspension:
Neutralizes excess acid in the stomach.
Helps in relieving acidity.
Allows easy transition of gas.
Himococid-SF Suspension 200 ml
Comes in a rich mint flavor, Himococid-SF suspension is a sugar-free antacid that delivers quick relief from acidity, bloating and heartburn. Mint present in this syrup contains the ability to loosen the sphincter between the stomach and esophagus that in turn allows the stomach acid to flow back into the esophagus. Due to its gastro-protective and ulcer-healing properties, it is considered among the Top Antacid Syrup in India.
Uses of Himococid-SF Suspension 200 ml:
Combats ulcers and gastritis.
Relieves gaseous distension.
Safe to use in diabetics and hypertensives.
Mac-MPS Free Banana Suspension
A synthesis of four medicines, Aluminium Hydroxide, Magnesium Hydroxide, Simethicone, and Sorbitol, this suspension is another effective antacid in the list of 5 Best Antacid Syrup in India. This syrup is available in Banana flavor and helps in treating the symptoms of excessive acid in the stomach including acid indigestion, sour stomach, and the discomfort caused by gas. Additionally, it is prescribed to ease the pressure of pain in the gut and stomach caused by excess gas symptoms like bloating and belching.
Uses of Mac-MPS Free Banana Suspension:
Treats abdominal pain and swelling.
Stimulates bowel movements.
Increases the expulsion rate of gases from the stomach.
Sucactive – O Suspension
Moving forward in the list of Top Antacid Syrup in India, we have Sucactive – O Suspension which comes with a combination of Sucralfate and Oxetacaine that belong to the class of medicines called ulcer protectants. It is used to treat gastrointestinal ulcers, peptic ulcers, indigestion, hyperacidity, gastritis (inflammation of the stomach), heartburn, etc. In addition, this suspension protects the ulcer tissue in the stomach from acid and damage and thereby, allowing faster healing.
Uses of Sucactive – O Suspension:
Neutralizes gastric acid.
Relieves pain & discomfort caused by ulcers.
Helps in minimizing stomach inflammation.
Enzodex Syrup
Holding the rich properties of digestive enzymes Fungal Diastase and Pepsin, Enzodex Syrup is another medication counted under the list of 5 Best Antacid Syrup in India. It acts as an appetite stimulant that efficiently relieves epigastric discomfort (upper abdominal pain), acid indigestion, and eructation (burping). Fungal Diastase is a starch hydrolyzing enzyme that converts complex carbohydrates into simple carbohydrates. Whereas, Pepsin aids in the breakdown of bigger protein molecules into smaller protein units (amino acids).
Uses of Enzodex Syrup:
Treats digestive disorders and gastric problems.
Relieves abdominal discomfort.
Allows easy digestion of carbohydrates, proteins & fats.
Conclusion
So, these are the Top Antacid Syrup in India that are known to provide relief from stomach acid and its other associated symptoms. All the syrups mentioned in the list can be easily found in the Indian Market at genuine prices, However,  if you want to get your hands on the top quality antacid syrups or other pharma medications at the most affordable prices, then reach out to the Best Pharma Company in India, Biocorp Life Sciences.