Pharma PCD Franchise Company in Kerala – Kerala has succeeded in increasing life expectancy as well as reducing maternal mortalities and infants. The health scenario of state Kerala is described as "good health based on social equity and justice". When compared to any other states the healthcare parameters of Kerala are ahead and that is why this state is best for the PCD franchise business. Further, joining hands with the emerging Pharma PCD Franchise Company in Kerala will give you an upper hand in the pharma industry.
Biocorp Lifesciences is providing numerous business opportunities by expanding its PCD franchise business in Kerala. For this, we are inviting all the pharma experts including wholesalers, stockiest, retailers, market representatives, entrepreneurs, etc. Being a career seeker without any second thought you can go with the company as they have a good reputation in the existing pharma market. The company has acquired a skilled and experienced team that make sure that quality products are only delivered to the customers. Have an independent and successful business with top Pharma PCD Franchise Company in Kerala.
If you are looking for pharma PCD franchise business in Kerala and its surrounding areas? Biocorp Lifesciences is here with the great business deal. In order to invest in us feel free to call us at +91 8727991700 or you can also mail us at sales.biocorp@gmail.com. Our company will be happy to serve you with the best services.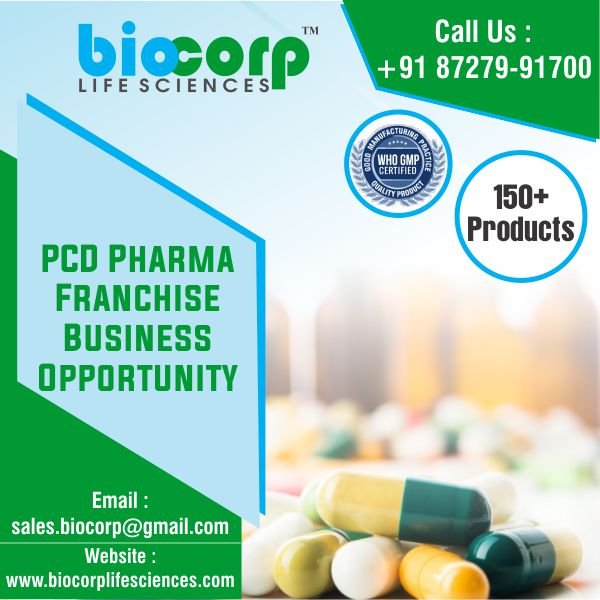 Top Pharma PCD Franchise Company in Kerala  – Biocorp Lifesciences
Biocorp Lifesciences is an ISO certified firm that deals in the production of high-quality products. The company has a goal of satisfying its customers by providing the WHO and GMP certified units. Our company ensures to deliver a highly effective and innovative range of medicines. We are linked with the many reputed doctors and pharma professionals. Our Pharma PCD Franchise Company in Kerala is using the best marketing strategies to make available medicines in both rural and urban areas. We formulate a wide range of products as per the on-going demand in the market and that is why we are the choice of thousands of people.
Here listed are some of the key features of the company:
The products and medicines delivered by us are approved by DCGI and FSSAI.
We follow both the quality control and quality assurance measures.
Being the leading pharma company the genuine and economic investment plans are offered by us.
We have open the doors of opportunity for all the pharma professionals.
These are just few highlights which we have mentioned. There is much our company owns. Collaborating with us is a good way of entering pharmaceutical sector. You can also enjoy the same position which we have maintained for so long. So come and join our PCD Pharma Franchise in Kerala and enjoy the earnings and profits.
Good Healthcare Status of Kerala that Enhances Pharma PCD Franchise Business
In terms of healthcare, Kerala has emerged as the best state. The standard of living of rural people has improved because of the implementation of land reforms. The publicly funded healthcare system of Kerala has helped in providing the treatment facilities to the people. Kerala is a state with a high literacy rate which impacts the health scenario.
Even though the mortality is low but the people of Kerala are suffering from chronic illness. The government of Kerala has taken up the initiative by introducing the Rashtriya Swasthya Bima Yojna Scheme. The objective behind the RSBY is to protect below poverty line households from major health issues. In total 14o government hospitals and 165 private hospitals have been impaneled.
By looking at the good healthcare status of Kerala we can say that starting your pharma PCD franchise business in this region will prove quite beneficial to you.
Benefits of Investing in Kerala Based Pharma PCD Franchise Venture
As we have stated earlier that Kerala is becoming India's healthcare hub. As per the health status progressive report, Kerala has topped the charts followed by Punjab, Gujarat, Tamil Nadu, and Himachal Pradesh. Numerous of pharma experts have already invested in the PCD franchise business to earn a good profit margin. The pharma PCD  franchise model is considered the best business to invest in and having your business in Kerala is like a cherry on the top. If you are a newcomer then go through the benefits of investing in pharma PCD franchise business in Kerala:
Have a profitable business in your preferred region.
You can start your PCD franchise venture as a sole proprietorship.
The associated company is always standing by your side as a good supporter.
Fulfill the high demand of people regarding healthcare products.
The advantages are not over yet. There is much more to serve our associates. We aim to give maximum benefit to our associates. So join us in Kerala for Pharma Franchise business and we will help you out to make a good profit.
Monopoly Rights for Pharma PCD Franchise Business in Kerala
Biocorp Lifesciences is providing the unique monopoly rights to all its franchise associates. The company has made easy for its clients to beat the high competition. Biocorp Lifesciences is looking for dedicated and determined individuals who have a motive to provide better healthcare services in the country. Our PCD Pharma Franchise based distributors for a wide range of products comes with many benefits. The serious, devoted and capable person is welcome for singular Marketing and Distribution rights. Our company is capable to provide you with remarkable promotional support through which you can secure a place in the market. Our promotional support would be very helpful for you to secure a place in the market.
As a franchise holder, you can start your  pharma PCD Pharma Franchise in Thiruvananthapuram, Kollam and any of the following regions:
Thirvanthatpuram
Thrissur
Idukki
Palakkad
Kannur
Wayanadu
Pathanamthitta
Kasaragod
Alappuzha
Kottayam
Malappuram
These are places where are offering our PCD Pharma franchise deals. We aim to deliver medicines at every location. As rising medicine demand in Kerala is a great business scope for newcomers. Our quality medicine and a good image are the backbones for the Pharma franchise business.
Contact Information for Pharma Franchise in Thiruvananthapuram
Get your hands on the high-quality medicine which are manufactured in the high tech state-of-art manufacturing facilities. Through our Pharma PCD Franchise Company in Kerala, we are targeting to provide quality medicine and business opportunity.
Name: Biocorp Lifesciences
Address: Bldg. No. – 99, Swastik Vihar,
Sector 5, MDC Panchkula,
India – 134109
Phone No: +91 8727991700
Email Id: sales.biocorp@gmail.com