PCD Pharma Franchise in Lakshadweep– The islands of Lakshadweep are a sight to behold. Much like its picturesque locations, this union territory is also number one in terms of industrial growth. Here small business ideas turn into great business empires. The Pharmaceutical Business here is also booming. Thus, here at Biocorp Lifesciences, we have decided to unveil the greatest opportunity for Pharma distributors and pharma suppliers to join us for our venture of PCD Pharma Franchise in Lakshadweep. Our Pharma Company will take your career to the top all the while helping you in the competitive market.
Biocorp Lifesciences is a renowned Pharmaceutical Company that has been in the business of a constant rise all around. We have worked very hard to get to the top and have concentrated all our resources in the process. We work in spacious work stations and use the most modern technology for the production of our medicines. Also, our plants are DCGI and ISO approved, thus, we have a brilliantly designed infrastructure. Should you choose to do business with us and opt for our PCD Pharma Franchise in Lakshadweep, you will be endowed with the best incentives and schemes out there.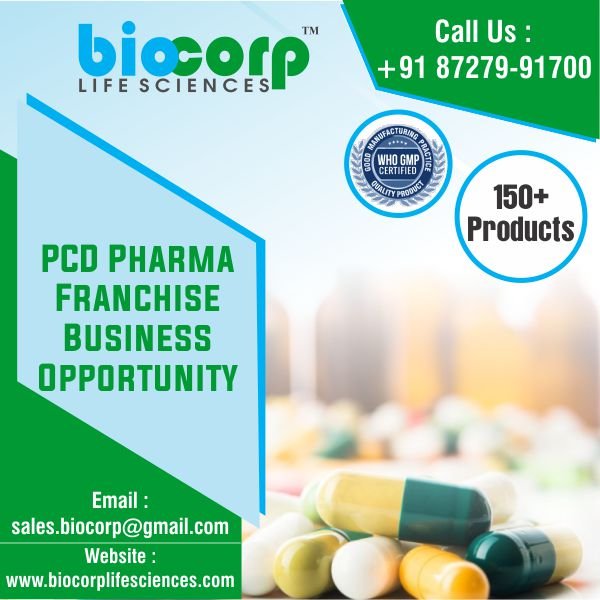 For any kind of assistance, or if you want more information about our affordable products, you should feel free to contact us anytime. To reach us, you may call us at +91 8727990700 or reach us via email at sales.biocorp@gmail.com.
Join the Best PCD Pharma Company in Lakshadweep- Biocorp Lifesciences
Biocorp Lifesciences is a pharmaceutical institution built on the principals of quality and reliability. We have been your healthcare provider for years now. Thus, we are pioneers in making medicines that are suitable for people from all walks of life. Our medicines are used throughout the country because they possess the following properties:
These are made with the richest excipients.

Our medicines undergo testing in three stages.

The raw materials and chemicals we use are of the richest quality and are imported from various parts of the world.

Our medicines have long shelf lives.

They are packed with superior quality products for leakage-free safekeeping.

We have a long list of medicines that cater to the ailments of anemia, pediatrics, gastric problems, gynae-related problems, ortho, cardiac, diabetic, among many others.
These are a few highlights which we have shared. There is much more to offer, so associate with us for PCD Pharma Franchise in Lakshadweep and let us allow to serve you with professional service.
Investing in Top PCD Pharma Franchise in Lakshadweep
With almost 25 years of experience in the Pharmaceutical Market, and owing to the modern methods of medicine manufacturing we have learned from our connections in Wales, Australia, we are sure to be an undefeatable partner in the Pharma Industry. Moreover, the Pharma Franchise Business is going to thrive because it has an abundance of manpower and resources to keep up this business. Thus, connect with Biocorp Lifesciences to get a chance at an evergreen business. Our Pharma Franchise Company is on the top because:
Our manufacturing units have been certified by the WHO and the GMP.

We have multiple workstations around the country.

Our medicines work effectively for all and give a great performance.

The warehouses we operate in are air-conditioned and spacious.

And, we always provide timely deliveries.

Also, our Pharma PCD Franchise Company in Lakshadweep is one that is backed up with renowned scientists and well-trained quality assurance engineers.
Exclusive Marketing Opportunities for Pharma Franchise Members
For our Lakshadweep PCD Pharma Franchise, we will be providing a lot of incentive programs and offers. Our corporate help and occasional gifts are appreciated by all our associates around the country. Thus, we strive to provide some unique marketing benefits for our Franchise members. We believe in providing the following:
Prescription notepads

Diaries

Notepads

Social media marketing

Creative messaging and sharing

Visual and E-Visual aid

Working Bags

Discounts and also other incentives.
Our Vision for the Top Pharma PCD Franchise in Lakshadweep
In the Union Territory of Lakshadweep, we want to give out PCD offers in all parts. Therefore, we will strive to cater to the population of about 91,120 with our impeccable products in the islands of Lakshadweep. We want to be providing these opportunities in the following destinations. 
| | |
| --- | --- |
| Districts | Population |
| Amini | 7,661 |
| Andrott | 11,191 |
| Kadmat | 5,404 |
| Kalpeni | 4,419 |
| Kavaratti | 11,210 |
| Minicoy | 10,447 |
Therefore, collaborate with the Top PCD Pharma Franchise Company in Lakshadweep for a great career in the Pharmaceutical Industry.
Contact Us
Contact us at any time for our offers on our cost-effective products.
Name– Biocorp Life sciences
Address– SCO 25 & 99, Swastik Vihar, Sector 5, MDC Panchkula, India-134109
Phone– +91 8727990700
Email– sales.biocorp@gmail.com